The day – December 17, 2021 – sent shivers down the spine of 20 crore Muslims in India. The two-day religious "parliament" of Hindu seers at Haridwar exhorting their fellow brothers to pick up weapons and go for blood and thunder was nothing but a clarion call for Muslim genocide. This event not only defiled and robbed the secular sheath of India but also sent a message that India was on the cusp of sending a postcard to the world, announcing: "WE ARE A HINDU RASHTRA". Maybe this postcard is all set to be printed or unofficially scribbled to say so with Prime Minister Narendra Modi's incongruous silence over these hate speeches.
An exponential rise in the hate speech frequency and intensity graph has been seen over the last seven years, but the recent Haridwar Dharma Sansad has broken all the barriers of shamelessness and has brought PM Modi into the ambit of innumerable questions. This is significant not only because of the imminent high-voltage election battle with five states going to polls, but also because the spiteful ejaculations of venom against Muslims juxtaposed with Modi's stoic silence have brought disrepute to India like never before in the international context. These Hindu zealots, without mincing words, have expressed that they have no love lost for the word 'secular' in the Constitution. These firebrand militant forces seem to adopt their own rules with only one end game – to exterminate Muslims and let the majoritarian power rule the roost.
The resultant unease amongst the secularist lobby represents many questions. Why is Modi silent over these hate speeches? Why does he not object to Hindu "saints" like Yeti Narsinghanand or Kalicharan who have denigrated Mahatma Gandhi? Is Modi scared of these Hindu icons? Is he worried about rubbing RSS the wrong way if he pulls up these personified Hindutva forces? Or is he worried that his masculine, shatterproof image of Hindu Hriday Samrat (ruler of the hearts) will get punctured if he calls for punitive action against these Hindu radicals? Modi's silence is an endorsement. This silence speaks volumes about his as well as his government's intentions. Is it on its way to changing the Constitution? Is it in the process of reshaping the democratic framework of which India has always been proud of? Till about 10 years ago, offices around the Lutyens Bungalow zone had messages written on the walls that read: 'India is the fastest growing free market economy'. What's the signal indicated by India now? Will our postcards to the world from now on say 'we are a nation of bigots, we feel proud of our hate machinery, we are a proud Hindu nation which can keep the minorities under their thumb, our Hindu propagandists will ensure with their might and power that minorities dare not speak, we are a nation of Hindu radicals which is transforming the society like never before'?
You are a staunch Hindu only if you can hate and oppress the Muslims. There is a saying that if voices of hate are loud, voices of reason should be louder. The churning has already begun. More than 180 students, staff, and faculty members from the Indian Institute of Management (IIM) Bangalore and IIM Ahmedabad have written an open letter to Prime Minister Modi requesting him to break his silence on pressing issues of alleged hate speech and vandalism in the country. Five former Chiefs of the Armed Forces and a number of other prominent citizens including bureaucrats have written a letter to PM Modi and President Ram Nath Kovind saying "we cannot allow such incitement of violence together with public expressions of hate".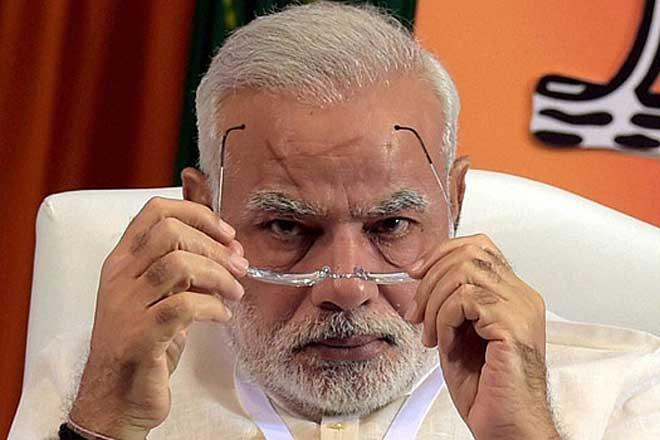 Image credit: The Financial Express
Despite these earnest pleadings from various sections of the society, Modi has chosen to be strategically and thoughtfully impervious.
Is Modi not conscious of his global image considering he has been exposed like never before? He harbours hate in his heart for Muslims, but puts up a façade of Gandhi's ideals. As the hate-filled voices echo across India, Modi's double face is becoming more and more prominent and stark. The young climate activist Disha Ravi was treated like a terrorist with both Modi and Amit Shah attacking her, but there's a complete silence on Vishal Jha and Neeraj Bishnoi – the main accused in the Bulli Bai App case. Hindutva bigots pledge an oath to boycott Muslim-owned businesses, deny houses to Muslim tenants and stop employing Muslim neighbours in Chhattisgarh. This is not a trend alone, but has become the norm of the day. Muslims feel lonely, scared, and are going through an existential crisis, but the prime minister says 'sabka saath, sabka vikas, sabka vishwaas'. Let's admit that there's a difference between BJP sarkaar and Modi sarkaar… It's the Modi sarkaar which is silent and perhaps living in a fool's paradise where lawlessness goes on unabated. Will Modi sarkaar realise that this lawlessness can drown him soon?
Source: Newsclik.in ( 09 Jan 2022)