The ICJ called upon the Sri Lankan authorities to respect human rights in the conduct of their investigation of the 2019 Easter Sunday bombings, including ensuring that investigations into the alleged involvement of Sri Lankan lawyer, Hejaaz Hizbullah, are conducted in accordance with due process and fair trial guarantees under international law.
Specifically, the authorities must specify the charges against him, grant him full and immediate access to a lawyer, and investigate the circumstances of his arrest for potential rights violations.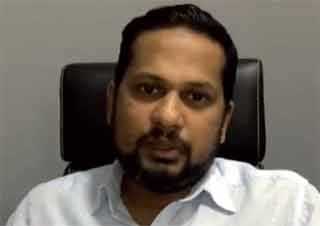 Photo: Courtesy FT lk
Sri Lankan Lawyer Hejaaz Hizbullah was
arrested
by the Criminal Investigation Department of the Police (CID) on April 14, 2020 pursuant to the Prevention of Terrorism Act (PTA) and has since been kept in detention. No reasons were provided at the time of the arrest. During a media briefing, a police spokesperson stated that he was arrested as a result of the evidence found against him during investigations into the 2019 Easter Sunday bombings. The ICJ understands that no remand or detention orders authorising his continued detention have been served even after the lapse of 72 hours as required by
Sections 7 and 9 of the PTA
. Moreover, Hizbullah was only granted limited access to legal counsel on April 15 and 16, under the supervision of a CID official, who had insisted that the conversation be in Sinhala, in breach of attorney-client privilege. Legal access has been denied at least since April 16, 2020.
"No one questions the government's need and obligation to investigate the horrendous Easter Sunday attacks, but these investigations must be conducted in a way that is consistent with international law and the Sri Lankan Constitution," said Frederick Rawski, ICJ Asia-Pacific Director. "Not serving Hizbullah a remand order as required by law, and denying him full and confidential access to legal counsel is unacceptable and in violation of international standards on the right to liberty."
A
Habeas Corpus petition
was filed by Hizbullah's father on April 17 seeking his release from detention, and demanding that he be given access to his attorneys. According to the application, five persons posing as officials of the Ministry of Health entered his home and interrogated him, after placing him in handcuffs. They demanded access to two of his case files, recorded a statement from him and subsequently took him into custody at the Criminal Investigation Department.
"By allowing warrantless entry, search of premises and the arrest of persons, the Prevention of Terrorism Act violates basic due process guarantees under international law," added Rawski. "This legal provision is one of many problematic provisions of the PTA. The ICJ reiterates it calls for the PTA to be repealed, and replaced with an a law that conforms with Sri Lanka's international human rights obligations."
According to
Article 9 of the International Covenant on Civil and Political Rights
, "anyone who is arrested shall be informed, at the time of arrest, of the reasons for his arrest and shall be promptly informed of any charges against him." Article 14 entitles anyone charged of a criminal offence "to have adequate time and facilities for the preparation of his defence and to communicate with counsel of his own choosing". Similar guarantees are enshrined under Article 13 of the Sri Lankan Constitution.
The UN Basic Principles on the Role of Lawyers provide that, "Governments shall further ensure that all persons arrested or detained, with or without criminal charge, shall have prompt access to a lawyer, and in any case not later than forty-eight hours from the time of arrest or detention."
The
ICJ has consistently called
for the repeal of the Prevention of Terrorism Act, which has been used to arbitrarily detain suspects for months and often years without charge or trial, facilitating torture and other abuse. The ICJ reiterated its call for the repeal and replacement of this vague and overbroad anti-terror law in line with international human rights standards and Sri Lanka's international obligations.
Contact
Courtesy: ICJ website