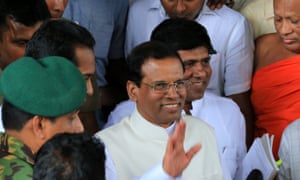 The article "
Wijedasa Rajapaksa: Unfit for the job of Justice and Buddha Sasana Minister
" published by Muslim Civil Societry activist, CEO, YATv, Vice President – Muslim Council of Sri Lanka and a prominent UNPer has become the talking point of the Sri Lanka Muslim Community elite and the English reading segment of the Colombo english educated muslim voters. This article was also circulated in the lankamuslims@yahoogroups.com and published in the Colombotelegraph.com webnewspaper -
https://www.colombotelegraph.com/index.php/wijeyadasa-rajapakshe-tells-blatant-lies/

and Ground Views, another webnewspaper/blog - http://groundviews.org/2016/12/27/wijedasa-rajapaksa-unfit-for-the-job-of-justice-and-buddha-sasana minister/?utm_source=feedburner&utm_medium=email&utm_campaign=Feed%3A+groundviewssl+%28groundviews%29.
Mr. Hilmy Ahamed played a very prominent role, behind the scene in the political playing field to cut down former Prisident Mahinda Rajapaksa, Gotabaya Rajapaksa, Basil Rajapaksa and Namal Rajapaksa among the Muslim voters of Sri Lanka, especially in the Colombo Central, Aluthgama and Beruwela. Hilmy Ahamed was the main contact person for Minister Faizer Musthapa to turn coats against President Mahinda Rajapaksa at the very last moment, around the last week/1st week of January 2015.
Things have changed since a the Presidential Elections - January 8th.,2015 and the General Elections – September 14th., 2015. The duped and hoodwinked Muslim voters who were made to "vote" the "Hansaya" have begun to understand the treachery of these Muslim Civil Society Leaders, Community Leaders, Ulema Sabai Leaders by the action of the "Yahapalana Government" now.
They are "disgruntled" and they have begun to show their displeasure and have begun to retaliate against these so-called deceptive, hoodwinking and opportunistic Muslim Civil Society Society Leaders, Community Leaders and Ulema Sabai Leaders to safeguard their legitimate "Muslim Rights". They are no more willing to be duped by the press releases and media dramas staged by these stooges of the "Yahapalana Government" anymore. The Muslim Youth and the young professionals of the community have begun to use "SOCIAL MEDIA" to challenge these scroundels.
They have begun to oppose the contemplated move by the "Yahapalana Government" to amend the Muslim laws that are in the statute books in Sri Lanka since independence which is a political move by the "Yahapalana Government" to please the European Union in order to expedite the granting of the GSP facilities that are been withheld since 2010. It is also alleged that this is one of the conditions the EU has laid down, if the EU is to restore the GSP + Plus concessions to Sri Lanka.
The "Yahapala Government" has no consideration to the Muslim Community issues or the "MUSLIM FACTOR" at all. The "Yahapalana Government" is NOT going listen to the
Muslim Civil Society Leaders, Community Leaders and Ulema Sabai Leaders, though they have been making "BIG NOISES" about the "MUSLIM FACTOR" over the last two years, since bringing President Maithripala Sirisena and the Yahapalana government to power with "our tipping the balance" – nearly 800,000 plus the tamil votes. The majority President Maithripalan Sirisena got was 649,072 votes.
Since our vote-bank had been traded by our politicians, the SLMC is dead. The ACMC is busy making money and covering the corruption charges made against them and the Muslim politicians stooging the UNP are ONLY interested in their personal benefits.
The ungrateful Muslim politicians who benefited the most from Mahinda Rajapaksa, Basil Rajapaksa and Gotabaya Rajapaksa are now stooging the Yahapalana government.
As a result of all these deceptions,
Muslims in Sri Lanka do NOT have a voice – a POLITICAL VOICE for that purpose.

The Yahapalana government (President Maithripala Sirisena and PM Ranil Wickremaratne) have forgotten that it was the minority Muslim votes and the Tamil votes and a very small fraction of the Sinhala votes the tipped the balance for the "Hansaya" to win the Presidential Elections in 2015.

The en-block Muslim votes and Tamil votes to the Muslim candidates and the Tamil candidates made the Yahapalana government to get their majority in parliament in the 2015 general elections
By Noor Nizam -Canada